PRESS
Adria Dental Group forms strategic partnership with Straumann Group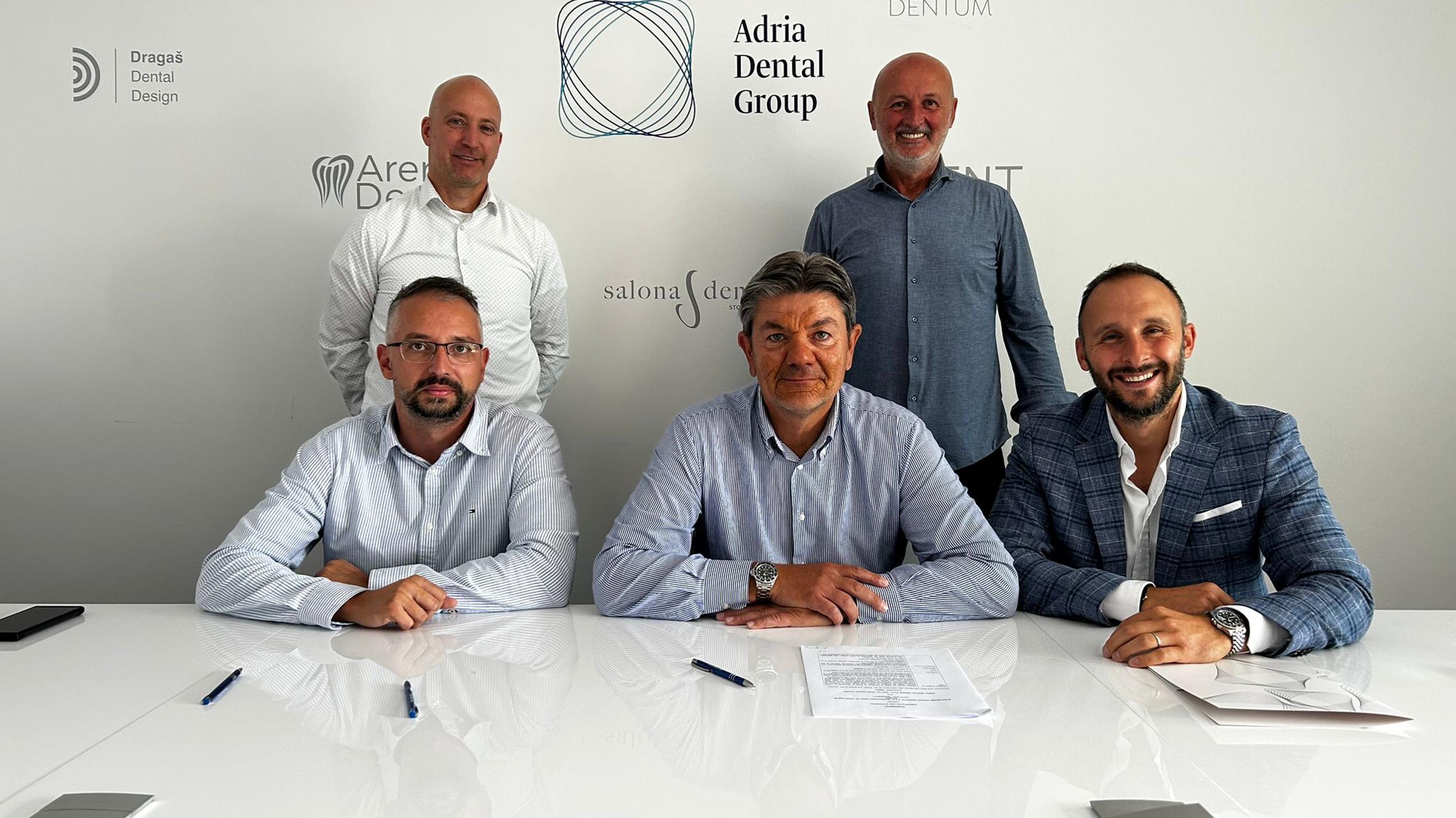 Dino Popović, CFO of Straumann Group Adriatic Hub; Gordan Muškić, CEO of Adria Dental Group; Bojan Galić, Country manager of Straumann Group Adriatic Hub; prof. dr. sc. Andrija Bošnjak, CMD and President of the Medical Bord of Adria Dental Group; Draženko Galić, Advisor of the Borad of Straumann Group Adriatic Hub at signing of the agreement
Adria Dental Group (ADG), the largest consortium of dental medicine in Central and Southeast Europe, has signed a cooperation agreement with Straumann Group, the leading global manufacturer of dental implants based in Switzerland.
Under this cooperation agreement, Straumann Group becomes a strategic partner of Adria Dental Group in the field of dental implantology and implant prosthodontics. Straumann's products will be utilized in all clinics of Adria Dental Group, ensuring a top-tier standard in the clinical environment, as well as providing the best service for patients.
As part of this strategic partnership, all employees of Adria Dental Group will also have access to Straumann's database of educational materials and the expertise of experts who use their products in their clinical practice.
"Our relationship with suppliers and manufacturers of dental equipment is one of the driving forces behind Adria Dental Group's operations. Therefore, our strategic partnership with Straumann Group gives us a strong boost in our daily work with patients. We invest heavily in the professional education of all our employees, and in this area, we see a great opportunity for further growth through the transfer of knowledge and technology from Straumann, as the most advanced global manufacturer in dental implantology. The use of Straumann's technology and materials will enhance our surgical and prosthetic processes, further accelerate our already perfected digital protocols in clinical practice, and make the entire patient experience easier. This partnership also confirms Adria Dental Group as an equal player in the field of global dental medicine," emphasized the Chief Medical Director and President of the Medical Board of Adria Dental Group, Prof. Dr. Sc. Andrija Petar Bošnjak."